The Perfect Pretend House
Wes Anderson always has the best interiors in cinema. They're beautiful, story book like, even if everything feels a bit "off". One of my favorites has always been the Tenenbaum house. My favorite room in all of 111 Archer Avenue has to be the pink 4th floor ballroom.
It's perfect. I can't help but love it. I've always been a huge fan of pink. I remember when my mother let me pick the paint color of my room for the first time. I picked the brightest most pepto bismol pink I could find.
"Are you sure?" She said barely trying to hide her disappointment.
It wasn't even a question, it was perfect.
When it came time to repaint our two front rooms, dining and living respectably, I don't think it was a coincidence that we happened to be re watching The Royal Tenenbaums. I leaned over to Brian and asked,
"What if I painted the rooms pink?"
He was quiet for a second, but said, "If you can make it the Tennebaum pink, we've got a a deal."
My mission was set, after numerous samples of my favorite paint, I think I've finally settled on the perfect color.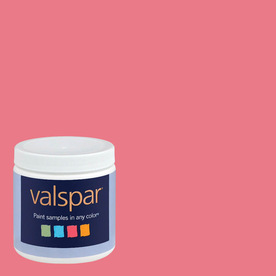 Meet Valspar's Hibiscus Pink. It reads a bit less blue in the house than it does on the screen. It looks so perfect next to the freshly painted white trim. I'm excited to see both rooms once they're done! I've got a few other projects to tackle first, but this is one of the more exciting ones. Even if I actually hate painting.