On The Sewing Table : Kannik's Korner Woman's Shift 1790-1820
Surprisingly I'm sewing something not for myself at the moment. This is in fact for my Grandmother. What can I say, love of costuming runs deep in my family! In fact, so deep that my Aunt hosts thousands of people at her farm every other year for a pre-1840's primitive rendezvous. Think historical camping. Think french fur traders. It's kind of a blast, and everything needs to be period correct. So She's commissioned me to make her a long sleeve version of this pattern.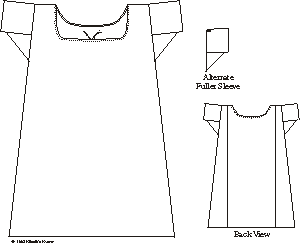 kind of boring right? I assure you it's completely necessary, and probably the most important garment for your get up. You wear it under your skirt, stays, and apron. Or if you're bougie enough to have a dress, under that.
Although this pattern looks easy enough, every seam is flat felled. It's not hard to do, but certainly more time consumer than using my serger, which I'm sure would be frowned upon. I'm currently hardworking the eyelet holes and should hopefully be done this weekend. Anyone else doing some historical sewing?